1 Year Commercial Use Guarantee | FREE NEXT DAY DELIVERY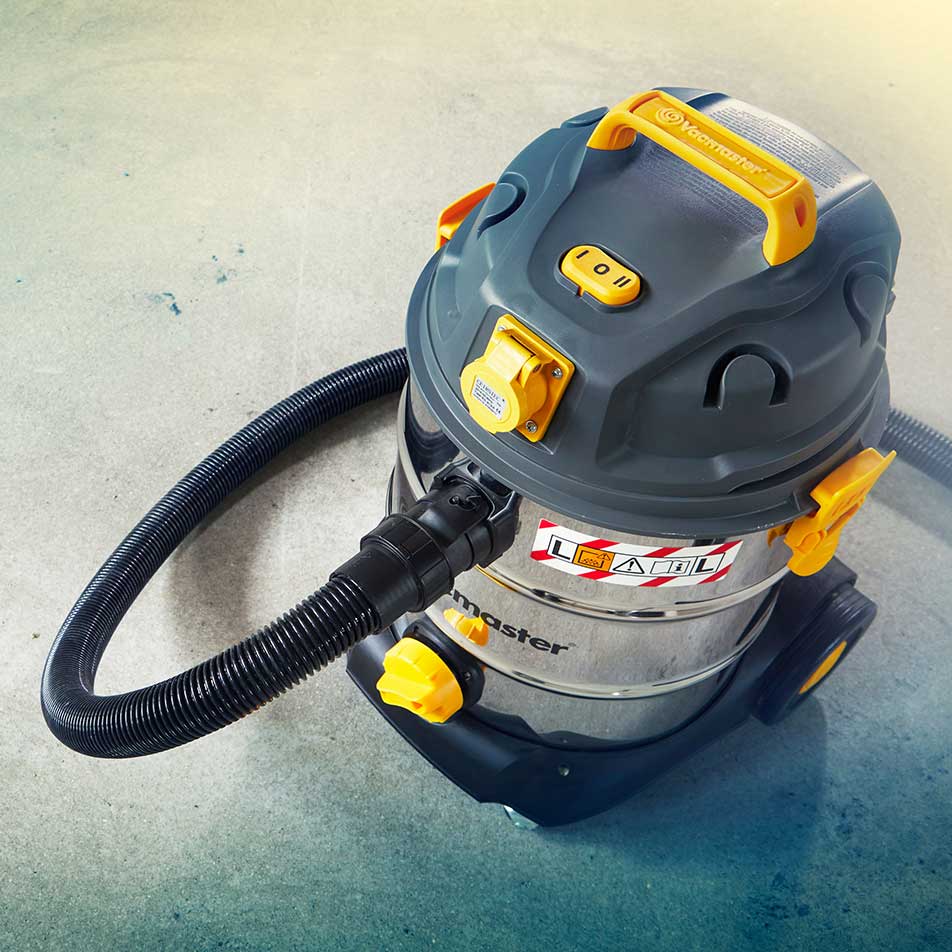 1. 110 Volt 16A Supply System
110V plug and PTO socket. Manufactured to meet the UK Health and Safety Executive guidelines for safe, portable electrical equipment. This vacuum cleaner operates from a 110V (CTE) isolating transformer so that the maximum voltage to earth does not exceed 55 Volts.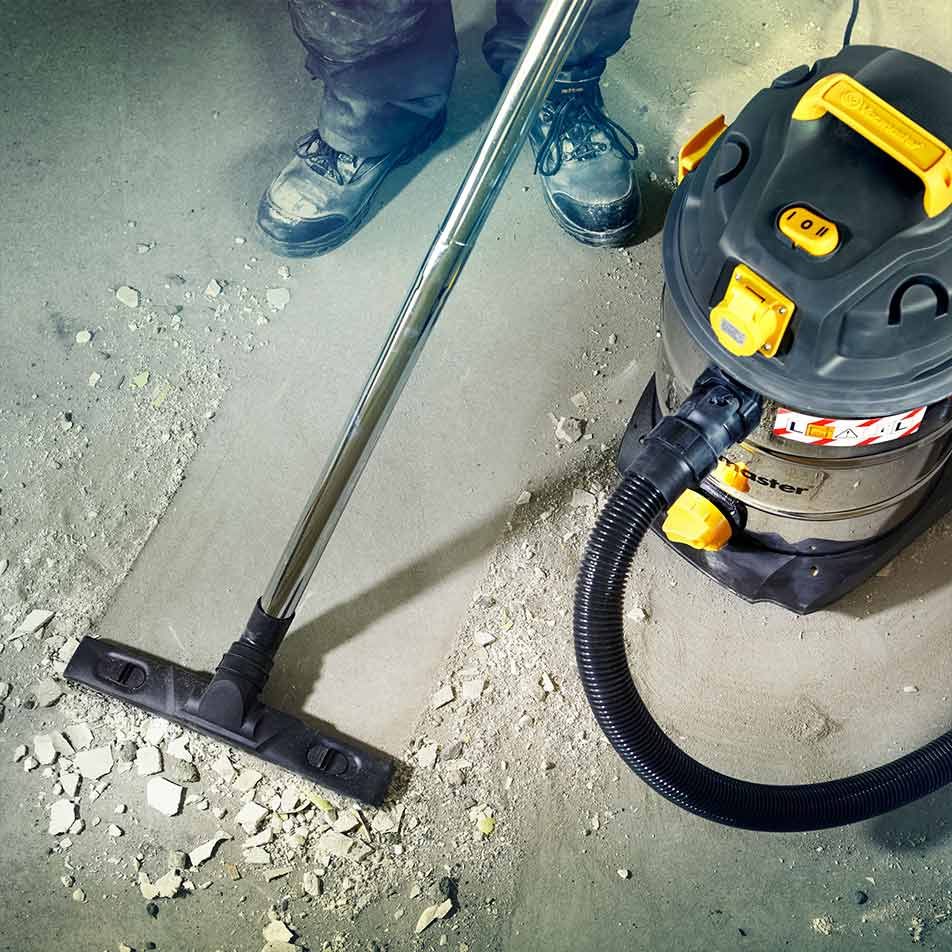 2. L Class Dust Extraction
The Vacmaster WD L30 110V has been independently certified for the safe extraction of light hazardous dusts with a workplace exposure limit (WEL) value of > 1 mg/m3. L Class Dust Extractors should be used when collecting materials such as; soft woods, gypsum, plasterboard and Corian. They are our recommended Industrial Wet and Dry Vacuum Cleaner for workshop, trade and manufacturing settings.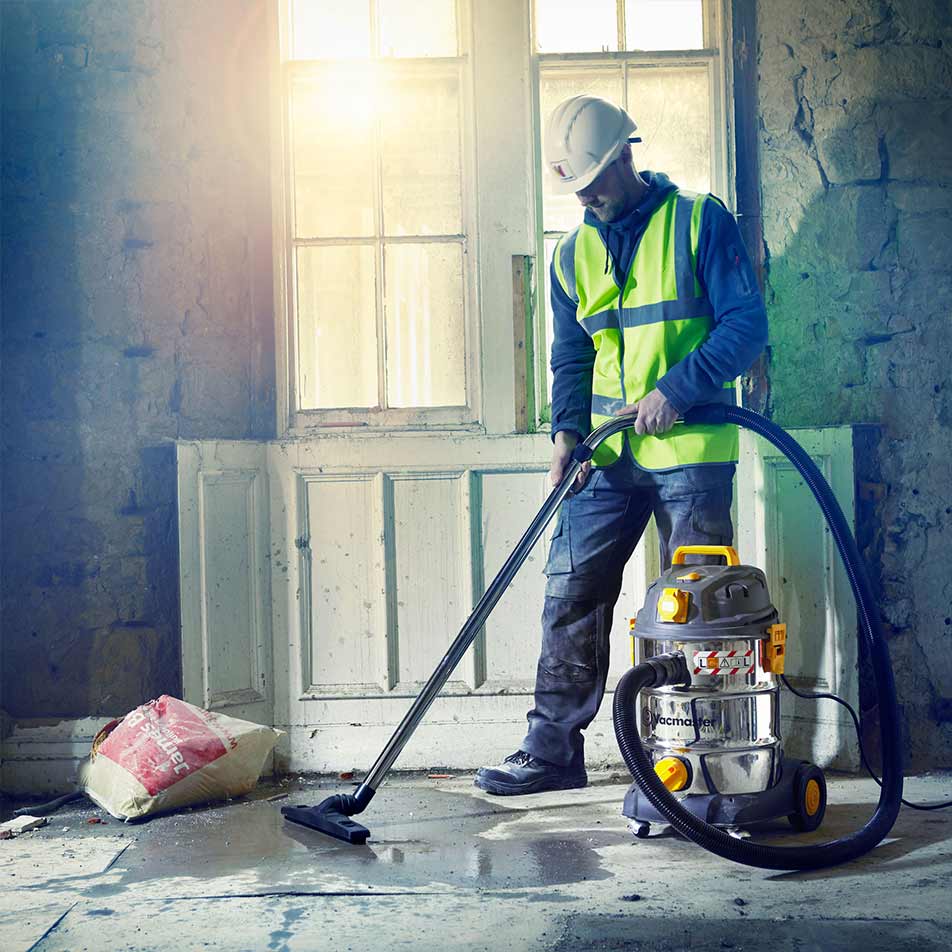 3. Wet and Dry Extraction
Vacuums wet and dry areas. The washable pre-filter coupled with the washable cartridge filter captures dust either directly into the tank or into a fitted dust bag for hygienic disposal. Remove filters and slide on the foam filter to start extracting liquids.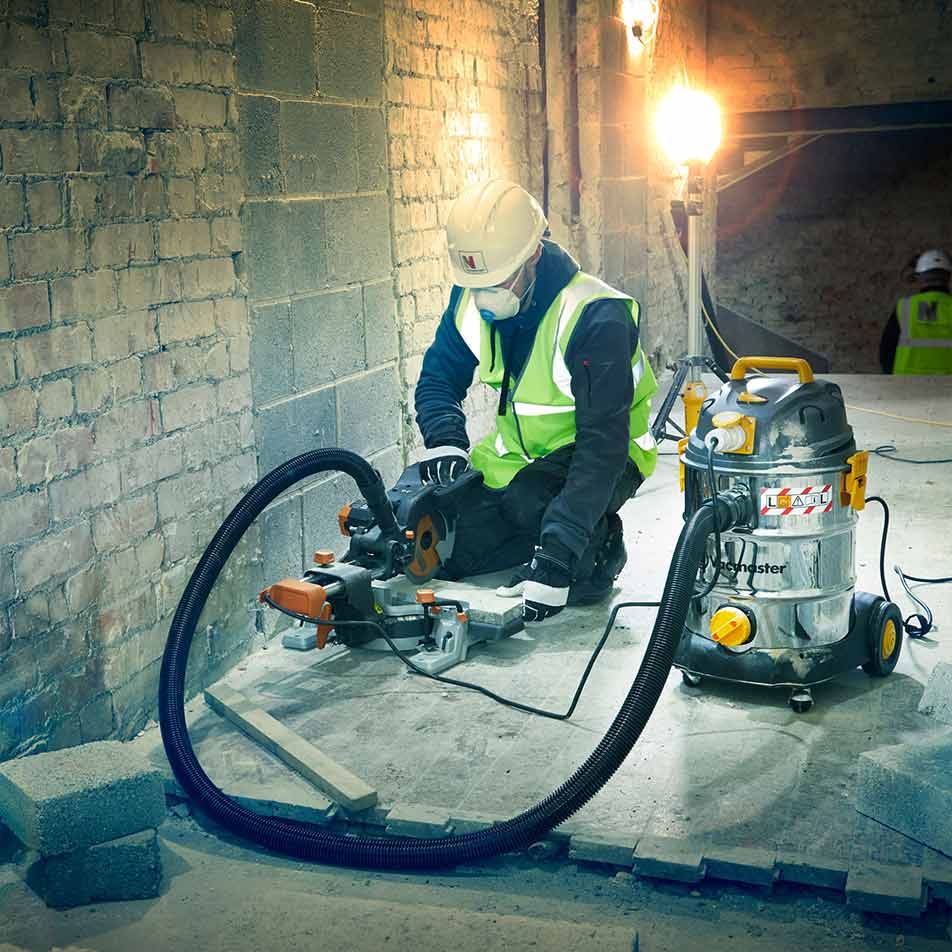 4. Power Take Off
110V 16A power take-off socket for dust extraction as you sand or drill. Plug in your 110V power tool and connect up the suction hose. Use the power switch on your tool to remotely operate the vacuum cleaner. Features a delayed shut-off. This is where the vacuum continues to run for around five seconds after the power tool has been switched off, to clear both the tool and hose of any remaining dust.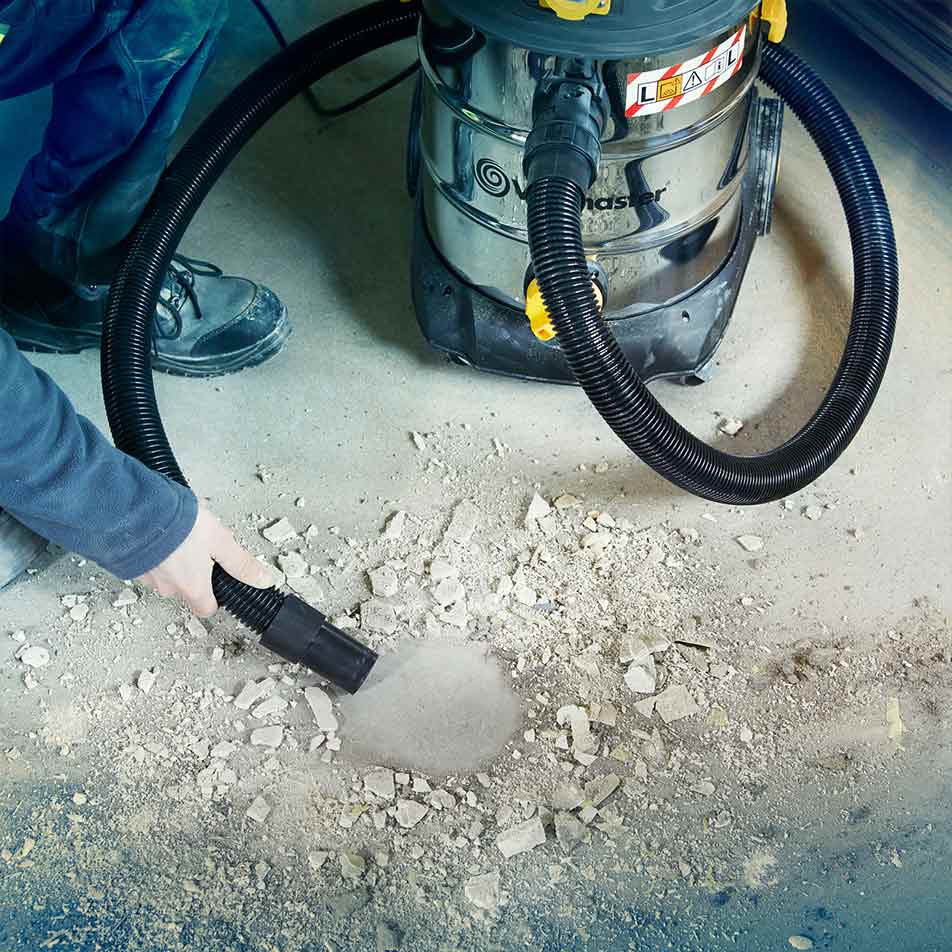 5. Blower Function
Plug the suction hose into the exhaust port and turn your Vacmaster into a powerful blower to make light-work of sweeping chores.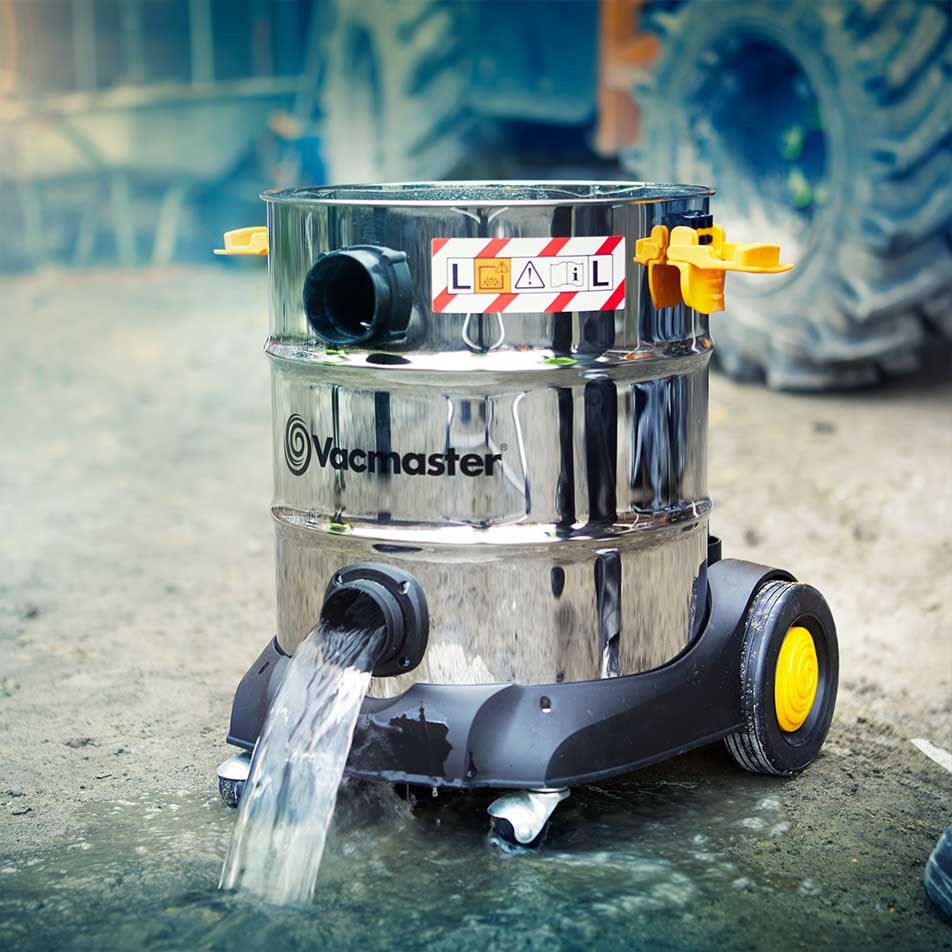 6. Drainage Port
Unscrew the cap to safely empty the tank of liquid waste, without any heavy lifting.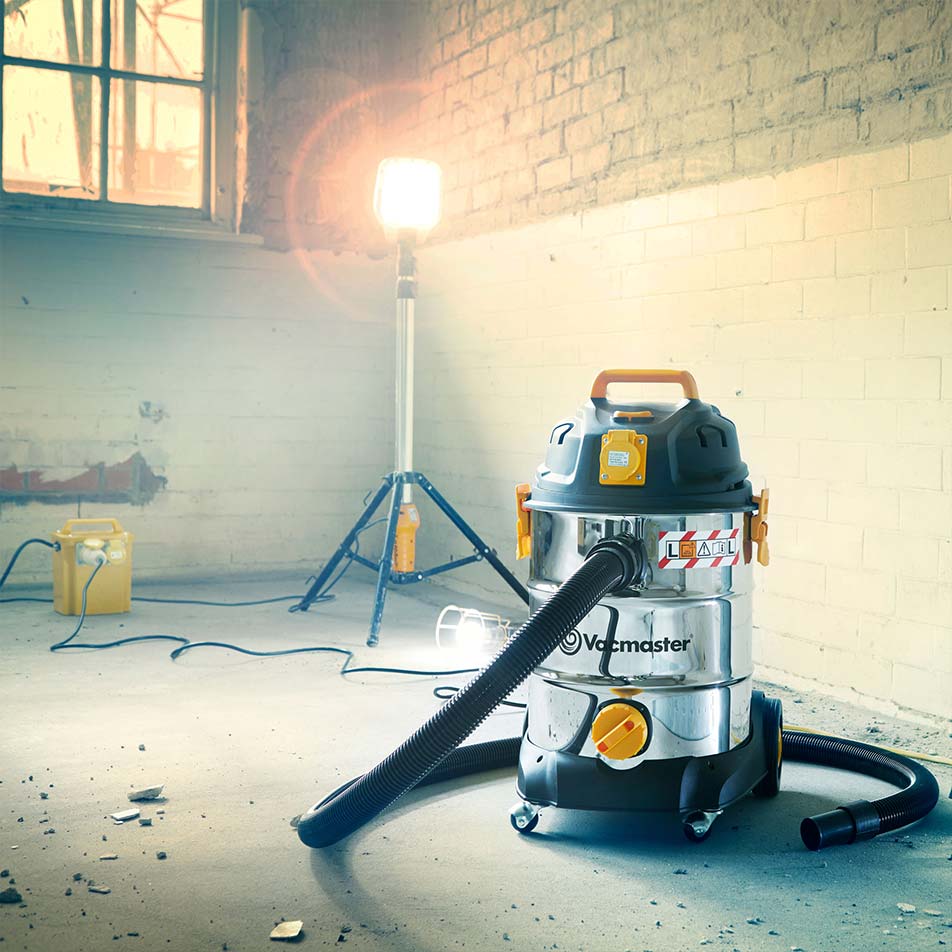 7. Heavy Duty Construction
Thick skinned 30L stainless steel tank, metal swivel castors, lock-fit stainless steel suction tubes with air-flow control handle and toughened crush resistant hose.
technical details
Model Number
VQ1030SIWDC-110
Power Supply
Corded 110V
Motor Power
1000W
Motor Type
Single Fan Bypass Motor
Tank Size
30L
Tank Material
Stainless Steel
Power Take Off
Yes (750W)
Max Airflow
48.5 L/sec
Max Vacuum Pressure
18 kPa
Air Watts
178 AW
Suction Tubes
Locking Stainless Steel
Handle with Airflow Control
Yes
Blower Function
Yes
Hose Length
2.5m
Hose Type
Reinforced, crush resistant
Hose Connection
Quick-Lock
Connection Diameter
38mm
Cord Length
5m
Working Reach
Approx 9.5m
Dimensions (Complete Unit)
H 65cm x W 40cm x D 44cm
Weight
7.3kg
Guarantee
1 Year Commercial Use
Shop Tools & Accessories
for this product
---