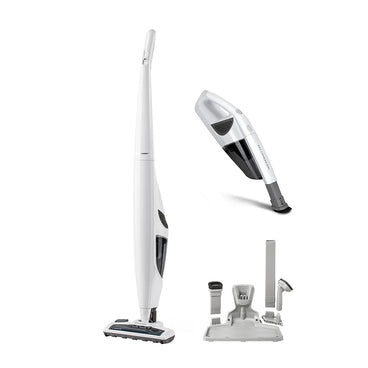 Vacmaster Joey 24V Cordless Vacuum Cleaner
£99.99
description
The Vacmaster Joey is a powerful 24V 2-in-1 lightweight cordless vacuum cleaner. With the included charging station, the Joey is always charged and ready to go. Strong suction, high-grade HEPA 13 filtration and modern lightweight design makes it a go-to household cleaner for everyday use. Seamlessly transitions between self-standing upright and portable handheld to make light-work of cleaning floors, stairs, upholstery and more. This versatile vacuum cleaner is a bagless design that comes with dual-speed settings. Model No. VSA2111EU.
Vacmaster Joey Compact Cordless Vacuum Cleaner
£69.99 | £89.99
description
The Vacmaster Joey Compact is an ultra-light, upright 2-in-1 cordless vacuum cleaner. With an articulating floor head, foldaway comfort-handle, and overall weight of only 2.0kg, it glides effortlessly around your home and stores compactly away when you're finished. The motorised brush bar and 20v lithium battery generates a powerful suction for up to 30 mins. The high-grade HEPA 13 filter and included charging station makes daily cleaning effective and convenient. Model No. VSD1801UK.
Vacmaster Orson Lite 24V Cordless Vacuum Cleaner
£99.99 | £149.99
description
The Vacmaster Orson Lite is a powerful 24V 3-in-1 lightweight cordless vacuum cleaner. Weighing only 2.15kg, it takes the strain out of cleaning. Use as an upright for floors, or as a handheld vacuum for stairs or the car. Supplied with a 2-in-1 crevice and dusting tool to clean hard to reach surfaces. Its two-speed settings and lightweight design makes the Orson Lite a go-to vacuum cleaner for the whole home. Never run out of charge with the built-in LED battery display. Task lights highlight dirt and dust as you clean. Model no. VSE2101EU.
Why choose a cordless vacuum
Cord-free vacuum cleaners can transform the way you clean your home. Offering an easy and powerful grab-and-go cleaning solution, they integrate seamlessly into your daily routine, preventing dirt and bacteria from building up through the week. The latest lithium battery technology offers you the flexibility to move around your whole home quickly and easily, without having to compromise on performance.
There are a few different methods for charging cordless vacuum cleaners. Some vacuums offer an interchangeable battery solution where a spare battery can double the run-time offered, whilst others offer the convenience of automatic charging on docking stations. Premium models also come with additional features, such as a power-boost mode for spot cleaning and ground-in dirt, or innovative solutions such as our LED Dirt Sensors.
The Vacmaster Range
Cleva. Manufacturer of over 40 million appliances worldwide. Alongside our premium cordless vacuum cleaners, the Vacmaster® range also includes powerful air mover fans and industrial vacuum cleaners. Buy direct and browse our latest product range, access detailed specification information, and use the insights from the team that design and make the products to choose the best cordless vacuum for your needs. We offer free UK delivery, great customer service and you'll get additional peace of mind with our manufacturer's guarantee.