Engineered for maximum extraction of dirt, dust, sludge or water, it offers a multi-functional cleaning solution for your garage, workshop or home without compromising on suction. With the addition of an on-board power socket, you can also connect up power tools and extract dust as you're working. Use it to capture everything from dust, to rubble, to gloopy water blocking a sink. With this Vacmaster you can even switch the hose to blow instead of suck to make sweeping quick and easy. All this technology combined makes this Vacmaster wet and dry vacuum cleaner an essential tool for any DIY enthusiast. Product code: VQ1220PFC-01 UK 
2 year guarantee | Free UK next day delivery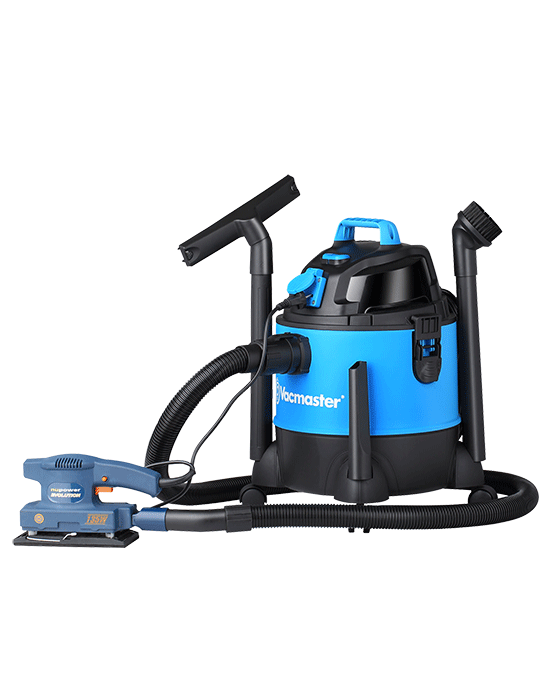 1. Power Take Off
Power take-off socket for extracting dust as you sand or drill. Plug in your power tool and connect up the suction hose to remotely operate the vacuum cleaner from the power tool.
2. Blower Function
Turn your vacuum cleaner into a powerful blower by connecting your suction hose to the exhaust port.
3. Quick-Lock Hose
Quick-lock hose connection provides an easy and fast connection method, providing added security to avoid accidental disconnection.
4. Wide-Stance Castors
Wide-stance plastic casters ensure extra stability as you're working. Allowing you to move across different floor surfaces with ease.
5. Long Reach
With a 2.5m flexible hose and 3 friction fit plastic tubes, the Multi 20 provides a working reach of approx 7.5m
technical details
Product SKU
VQ1220PFC-01
Power Supply
220 - 240V Electric
Motor Power
1250W
Motor Type
Single Fan Bypass Motor
Tank Size
20L
Tank Material
Impact Resistant Polymer
Power Take Off
Yes ( UK 1740W/ EU 2430W)
Noise Level
75.5 db(A)
Max Airflow
50 L/sec
Max Vacuum Pressure
18 kPa
Air Watts
200 AW
Suction Tubes
3 Plastic Tubes
Handle with Airflow Control
No
Blower Function
Yes
Hose Length
2.5m
Hose Type
Standard Flexible
Hose Connection
Quick-Lock
Connection Diameter
35mm
Cord Length
4m
Working Reach
Approx 7.5m
Dimensions (Complete Unit)
H 51cm x W 31cm x D 31cm
Weight
4.6kg
Shop Tools & Accessories
for this product
---