The latest Vacmaster Power 30 PTO wet and dry vacuum cleaner delivers more suction power and greater versatility than ever before. Now with a 60 per cent increase in air watts and Dual Mode Floor Head, you get improved performance across all floor surfaces. Engineered with a 1500W motor, generating 230 Air Watts of suction power, thick skinned stainless-steel tank and power take-off socket. Model No. VQ1530SFDC-01
*Recommended by Ideal Home - Best Wet & Dry Vacuum for Easy Emptying 2021*
2 Year Guarantee | Free UK Delivery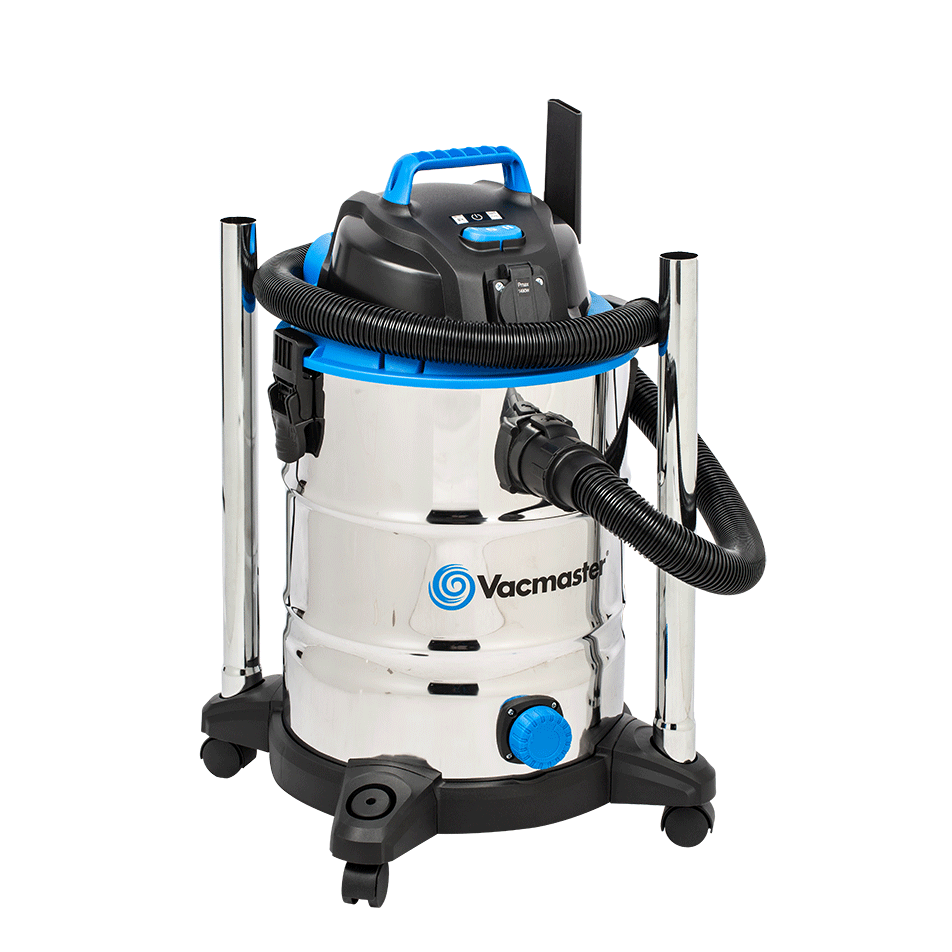 1. Power Take Off
240V UK power take-off socket for dust extraction as you sand or drill. Plug in your power tool and connect up the suction hose to remotely operate the vacuum cleaner from the power tool.
2. On-Board Accessory Storage
Accessories can be stored on the unit to ensure they are always conveniently to hand.
3. Heavy Duty Construction
With thick-skinned 30L stainless steel tank, stainless steel suction tubes, air-flow control, carry handle, drainage plug for safe liquid disposal and large on/off switch for simple operation.
4. Drainage Plug
Screw fit plug for draining liquid from the tank without having to lift a full vacuum cleaner.
5. Quick-Lock Connection
With the secure quick-lock connection, there is little chance of the hose ever becoming disconnected from the vacuum unit while you are using it.
6. Blower Function
Plug the suction hose into the exhaust port and turn your Vacmaster into a powerful blower to make light-work of sweeping chores.
technical details
Model Number
VQ1530SFDC-01
Power Supply
220 - 240V Electric
Motor Power
1500W
Motor Type
Single-Fan Bypass Motor
Tank Size
30L
Tank Material
Stainless Steel
Power Take Off
Yes (UK 1490W / EU 2180W)
Noise Level
73 db(A)
Max Airflow
48.5 L/sec
Max Vacuum Pressure
20 kPa
Air Watts
230 AW
Suction Tubes
Stainless Steel
Handle with Airflow Control
Yes
Blower Function
Yes
Hose Length
2.5m
Hose Type
Standard Flexible
Hose Connection
Quick-Lock
Connection Diameter
35mm
Cord Length
5m
Working Reach
Approx 9.5m
Dimensions (Complete Unit)
H 63cm x W 39cm x D 39cm
Weight
5.85kg
Shop Tools & Accessories
for this product
---