Vacmaster Orson Lite delivers 3-in-1 cleaning. Use upright for vacuuming floors, as a hand vacuum with motorised head for deep cleaning stairs or attach the 2-in-1 crevice tool and dusting brush to the wand or hand vacuum for the tops of cupboards, ceilings and other hard to reach places. Weighing only 2.7kg, the Orson Lite is incredibly lightweight allowing you to clean for longer without muscular strain. The 24V Max lithium-ion battery provides up to 40 minutes run time for whole home cleaning. Switch to turbo mode for 17 minutes of extra suction power for stubborn dirt. An LED battery indicator tells you how much power you have and when it's time to recharge. A discreet wall mount stores the vacuum securely and ensures it always remains easy to access. The washable filter helps to maintain your vacuum cleaner's performance. 2 filters are included in the box. Model no. VSE2101EU.

2 YEAR GUARANTEE | FREE UK NEXT DAY DELIVERY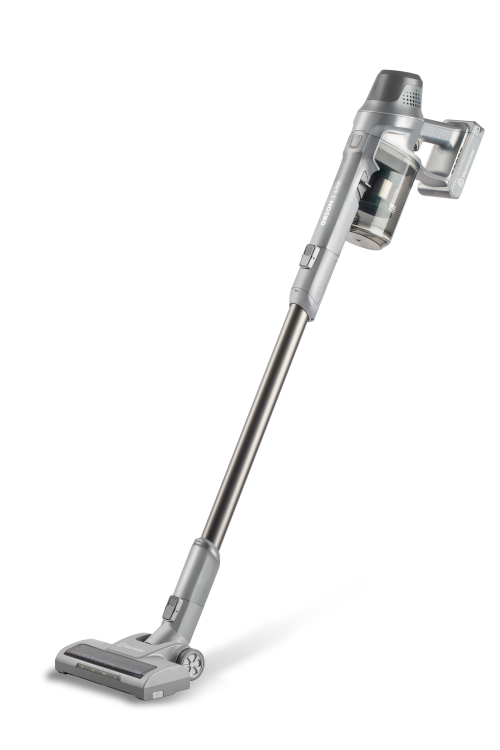 1. 24V Max Cordless Cleaning
24V Max lithium battery delivers powerful cleaning performance, perfect for every home. A powered floor head tackles stubborn dirt, while the lightweight 3-in-1 design allows you to effortlessly clean all hard-to-reach areas.
2. 40 Minute Run-time
Lithium-ion battery delivers up to 40 minutes run time, making sure you can clean your whole home without the need to re-charge. Turbo mode provides 17 minutes of boosted suction power for cleaning ground-in dirt and pet-hair.
3. LED Battery Indicator
Never be caught out with low battery power again. The LED Battery indicator offers a smarter way of cleaning. Instantly illustrates how much battery power is remaining. The indicator will also show you the current charging status.
4. Balanced and Lightweight
Weighing only 2.15Kg, the Orson Lite is optimised for pro-longed use in any cleaning orientation, without causing muscular strain.
5. 3-in-1 Cleaning
The Vacmaster Orson Lite provides a total home cleaning solution with 3 cleaning modes. The detachable handheld vacuum is perfect for cleaning up spillages from kitchen tables, furniture and the stairs, while the crevice tool attached to the end of the wand is ideal for cleaning higher, hard to reach areas. Use in up-right mode for floors and under furniture.
6. Detachable Handheld
Perfect for cleaning up everyday spills and mess. The powered multi-floor head can be attached directly to the handheld vacuum providing a much deeper and convenient cleaning method for vacuuming the stairs.
7. Easy Empty Dust Bin
Empty the Vacmaster Orson Lite with the slide of a button. Easy, slide to empty dust bin for simple, hygienic emptying. Removable dust bin also provides easy access to clean filters.
8. LED Task Lights
LED task lights help to highlight dust and dirt while vacuuming, making it easy to spot dirt under your furniture and sofas.
9. Wall Mount
Wall-mount included to quickly and securely store your vacuum cleaner.
10. x2 Washable Filters Included
2 washable filters are included in the box, for repeated use. 2 filters allow you to keep cleaning while the other filter is drying, preventing any loss of suction from using a dirty filter.
technical details
Model Number
VSE2101EU
Power Supply
Cordless Battery
Noise Level
70dB(A)
Max Airflow
10L/s
Max Vacuum Pressure
8 Kpa
Air Watts
28 AW
Motor Voltage
24V MAX
Battery Voltage
24V MAX
Battery Charging Time
5.5 hours
Continuous Run Time
40 mins
Weight
2.7kg
Battery Type
Lithium-Ion
Power Settings
2 adjustable settings
Dust Capacity
0.6L
Detachable Handheld
Yes
Interchangeable Battery
No
Floor Head
Multi-floor
Wall Mount
Yes
Telescopic Handle
No
Plug Type
British 3-Pin and European VSD
Guarantee
2 Year Domestic Use Only
Shop Tools & Accessories
for this product
---