Go cord free with the Vacmaster Joey. Powered by a 24V MAX lithium-Ion battery the Vacmaster Joey delivers up to 30 minutes runtime. A versatile, 2-in-1 cordless vacuum cleaner with detachable handheld vacuum. Self-standing, lightweight design takes the weight out of your wrist and onto the floor, and clicks into a standing position so you don't have to balance it while you pause between tasks. 2 speed settings allow you to increase cleaning power for when you want to tackle stubborn, ground-in dirt and pet hair. A one-step brush bar cutter removes tangled hair easily, maintaining the pick-up performance of the vacuum. LED task lights illuminate the cleaning area to ensure dirt and dust under your furniture does not go unseen. Detach the handheld vacuum for cleaning furniture, the car or stairs.

A sleek charging station holds 3 attachments. Including crevice tool, dusting brush and multi-tool. The Joey automatically charges when docked, so you are never out of power.

The washable HEPA 13 filter captures 99.95% of dust and allergen particles down to 0.3 microns. 2 filters are included in the box. Model No. VSA2111EU
2 YEAR GUARANTEE | FREE UK NEXT DAY DELIVERY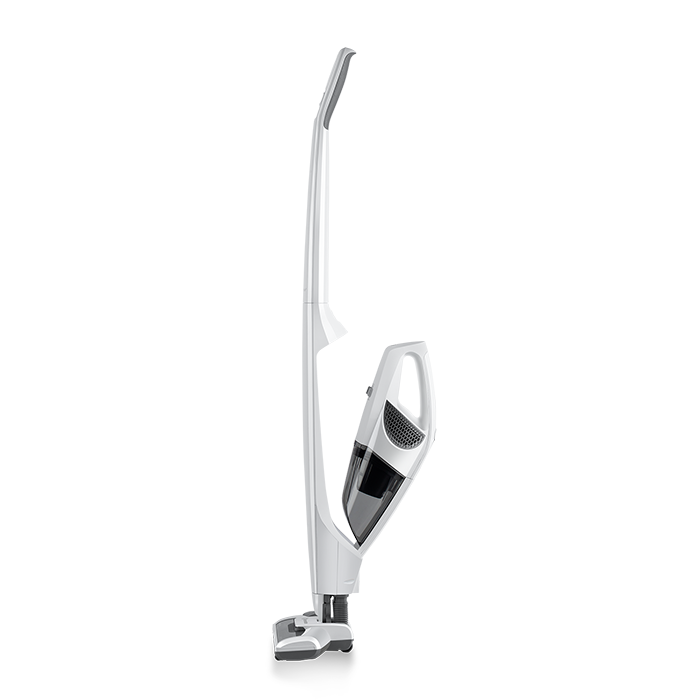 1. Break Free with Cordless Cleaning
The Vacmaster Joey offers cordless convenience for quick spot cleaning to whole home vacuuming without the hassle of a power cable. The detachable handheld vacuum is perfect for cleaning up spillages from kitchen tables and hard to reach areas.
2. 30 Minutes Runtime
24V Max lithium-ion battery pack provides longer lasting performance of up to 30 minutes run-time from a single charge. Engage turbo mode for 10 minutes of increased suction power to lift stubborn, ground-in dirt and pet hair.
3. Tackles Ground-in Dirt
The motorized brush bar combines nylon bristles that drive deep into carpet pile to dislodge dirt and ultra-soft carbon fibres that capture fine dust from hard floors. The curved brush bar design helps to channel dirt directly into the vacuum's air stream.
4. Lightweight, Self Standing and Manoeuvrable
The Vacmaster Joey weights just 2.6Kg. The self-standing ergonomic design takes the weight out of your hand and onto the floor allowing you to clean for longer in comfort. The 180-degree steering provides fast and fluid cleaning around your furniture.
5. LED Task Lights
The LED task lights on the floor head help to guide the way. Shining light on dirt and dust hidden under your sofa, bed and coffee table, so nowhere is left uncleaned.
6. Powered Brush Bar Cutter
Remove tangled hair from the rotating brush bar in one step. The foot operated bush bar cutter removes tangled and embedded pet hair to ensure peak pick-up performance.
7. Easy to Empty Dust Bin
The dust bin detaches from the handheld vacuum cleaner to make emptying dirt and debris straight into your bin hassle free. A 0.5L large capacity means you don't need to empty as often.
8. Charging Station
Complete with a minimalist charging station. Store your vacuum cleaner and all accessories neatly away. The vacuum cleaner automatically charges when stored on the station, so you're never left without battery power.
technical details
Product SKU
VSA2111EU
Power Supply
Cordless Battery
Noise Level
72dB(A)
Max Airflow
15L/s
Max Vacuum Pressure
7 Kpa
Air Watts
30 AW
Motor Voltage
24V MAX
Battery Voltage
24V MAX
Battery Charging Time
5 hours
Continuous Run Time
30 mins/10 mins (high)
Weight
2.6kg
Battery Type
Lithium-Ion
Power Settings
2 adjustable settings
Dust Capacity
0.5L
Detachable Handheld
Yes
Interchangeable Battery
No
Floor Head
Multi-floor
Wall Mount
No
Telescopic Handle
No
Plug Type
British 3-Pin and European VSD
Guarantee
2 Year Domestic Use Only
Shop Tools & Accessories
for this product
---