2 Year Domestic Use Guarantee | Free Next Day Delivery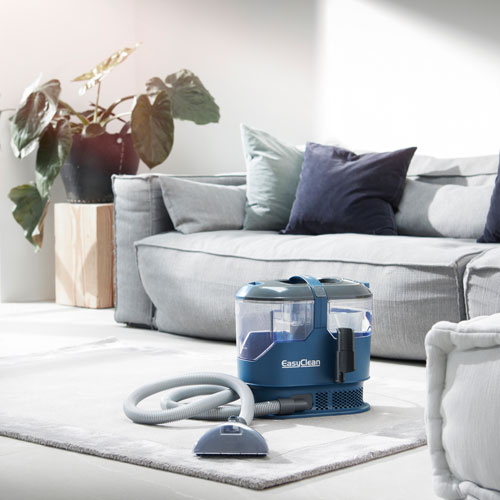 Powerful 800W Motor
Quickly removes everyday spills and stains. Just spray, brush and vacuum for a spotless finish.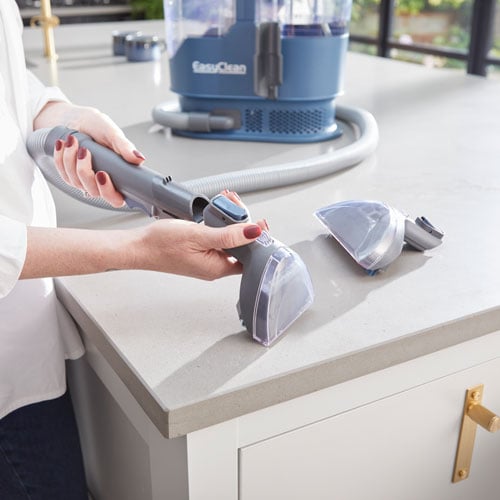 Two Interchangeable Tools
A narrow Tough-Stain Tool for cleaning heavier stains and a Wide-Path Tool for lifting larger spills quickly and easily.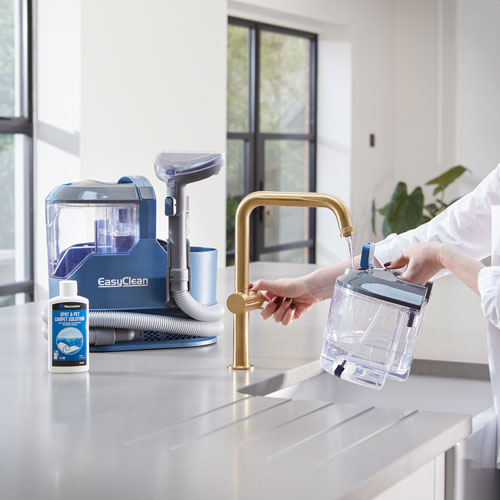 Separate Tanks
Two large capacity tanks keep the clean water and detergent solution hygienically separate from the collected dirty water. The clean water tank has a large 2.5L capacity and is a separate tank from the 1.9L dirty water tank. Both tanks are removeable. Simply fill the clean water tank with detergent and water ready for spot cleaning. Empty the dirty water tank and rinse out at the end of the job.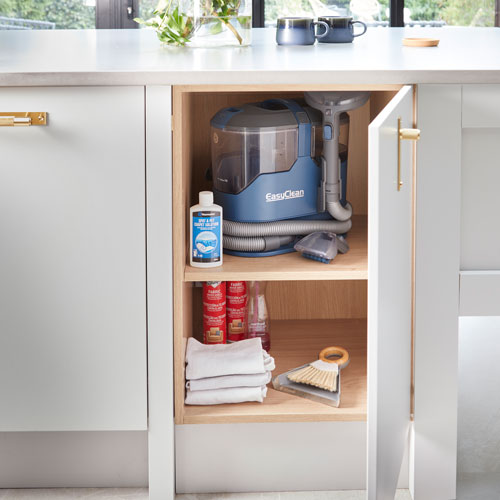 Compact and Portable
Compact and light, it can be stored where it's easy to grab. So you can tackle stains quickly around the home, stairs and car.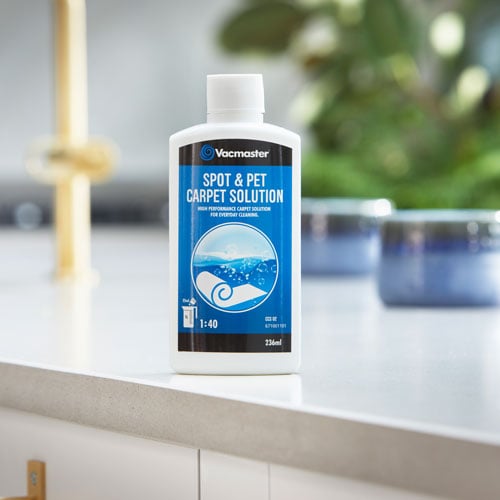 Cleaning Formula Included
The included 236ml of cleaning solution is developed specifically for use on carpets, rugs and upholstery. It is also great for cleaning tough pet stains. The Vacmaster EasyClean is compatible with all major low foaming carpet cleaning solutions.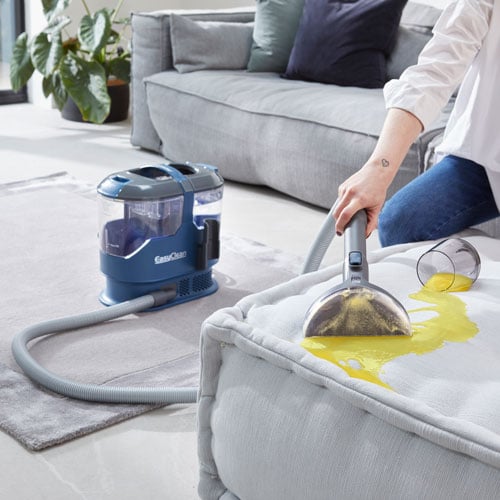 Long Reach
An extra-long 6m power cord and 1.8m long hose ensures you can reach further.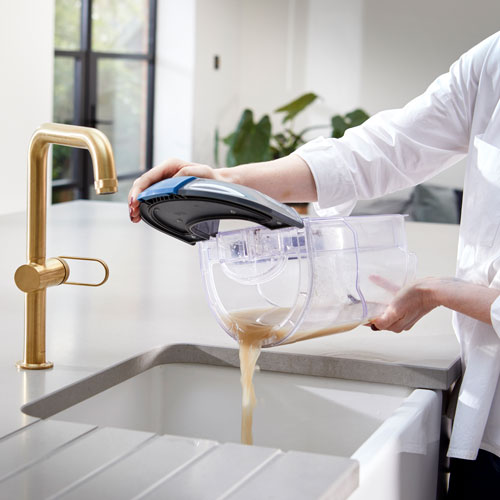 Easy to Empty and Clean
Quickly and easily empty the dirty water tank by removing from the carpet spot cleaner. An extra-large opening ensures it is easy to clean and rinse away any dirt and debris collected.
technical details
Model Number
SCA0801-01
Power Supply
Corded 220 - 240V
Motor Power
800W
Motor Type
Single Stage
Dust Collection
Bagless
Tank Size
2.5L (Clean Tank)/ 1.9L (Dirty Tank)
Tank Material
Plastic
Noise Level
75 dBLpA
Hose Length
1.8m
Cord Length
6m
Dimensions (Complete Unit)
H 35cm x W 23cm x D 34cm
Weight
4.6kg
Guarantee
2 Year Domestic Use
Shop Tools & Accessories
for this product
---
Does the spot cleaner heat the water?
The machine does not heat the water, but we do recommend you use warm water (40℃) for the best cleaning results. Simply remove the clean water tank from the EasyClean and fill straight from your hot tap, add detergent, and replace on the EasyClean – and you're ready to go!
Can I leave unused water and cleaning solution in the tank to use next time?
Yes, you can absolutely leave any leftover formula in the tank and this can be used for your next clean.
How to use the carpet shampoo/ cleaning solution
1. How much solution should I use?
For the Vacmaster solution supplied you need to use 1 part cleaning solution to 40 parts water but this ratio is different for other brands of carpet shampoo. Always follow the usage instructions that come with whichever carpet cleaning solution you choose to use
2. Do I need to add more solution for tougher stains?
No, we would not advise adding more solution for tougher stains as it may have an adverse effect on your carpet. Instead, always follow the instructions on the bottle and repeat the process if necessary.
3. Can I just use water?
If you'd prefer to only use water in the Carpet Spot Cleaner then you may do so, but results will almost certainly be less effective than using it with a low-foaming carpet cleaning solution.
4. What not to use in the Carpet Spot Cleaner?
We wouldn't recommend using anything other than a low-foaming carpet cleaning solution and water in your Carpet Spot Cleaner. Any other products may damage your carpet fibres.
5. Can this be used on wool upholstery and carpets?
Please refer to the manufacturers care guidelines before using the carpet cleaning solution and spot cleaner. We recommend you always test a small hidden area for colourfastness and pile distortion.
How is the dirty water kept separate from the clean water?
The EasyClean comes with 2 separate removeable water tanks – one for the clean water and one for the dirty extracted water. The clean water tank is clearly marked so when in a hurry to remove that spill from your carpet, you know which tank you need to fill with warm water and detergent.
How do I clean the spot cleaner?
After emptying the collection tank, the EasyClean Carpet Spot Cleaner can be easily cleaned by removing the necessary parts (dirty water tank and brush tools/nozzles) and rinsing with clean running water. They can then be left to dry.
Can the clear nozzle cover be removed?
The nozzle covers can be removed to allow for cleaning. Simply press the cover release button and remove the attachment. These are hand wash only.
We'd recommend following the steps in the instruction manual and cleaning it between each use to maintain the machine and ensure optimum results.