Powerful 24V 25cm grass trimmer with 24V 2.0Ah lithium-ion battery and charger, suitable for lawn sizes up to 300m2. The trimmer head which can be easily twisted at the touch of a button for both trimming long grass and edging flower borders. The multiposition head easily enables trimming under garden furniture and toys such as benches and trampolines. Telescopic shaft and adjustable front handle can both be adjusted to suit the height of the user and an adjustable, removable wheel kit is supplied for added comfort, allowing the weight of the trimmer to be supported in both trimming and edging mode. With an automatic single line feed with 1.6mm line, should the line snap, more line will be fed out for hassle-free trimming. The pop-down plant guard protects the flowers in your border and from damaging tree bark.

2 Year Guarantee | FREE UK DELIVERY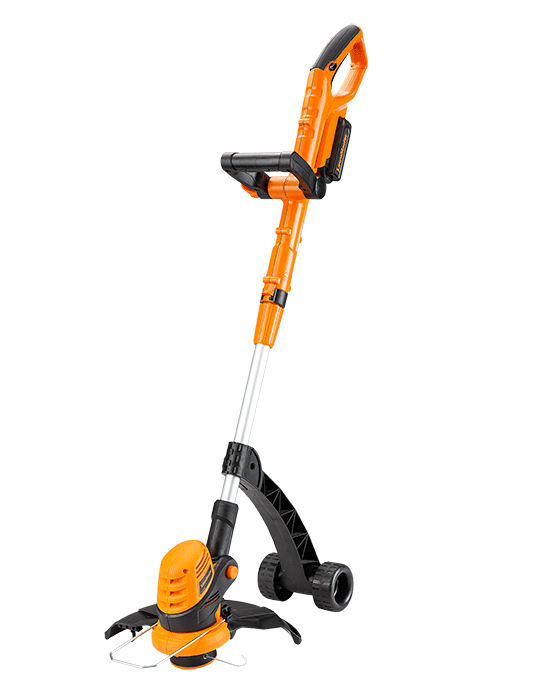 1. 24V Cordless Freedom
Trim without the hassle of cables. 1 powerful 24V 2.0Ah battery gives up to 25 minutes run time. Trimmer is also compatible with LawnMaster 4.0Ah batteries sold separately.
2. 2-in-1 Trimming and Edging
Rotate the trimmer head to convert from trimming to edging mode.
3. Adjustable front handle
Multi-position handle can be moved to suit the user.
4. Multi-angle head
Choose the angle that's best for the user during trimming and reach into hard to access areas such as under trampolines or hedges.
5. Telescopic shaft
Length of the telescopic shaft can be adapted to suit the height of the user.
6. Automatic Line Feed
Line is automatically released for reliable cutting performance.
7. Plant guard
Protects tree bark and plants from being accidentally cut.
8. Removeable wheel kit
Support wheel which can be used in both trimming and edging mode for extra support.
technical details
Model Number
CLGT2425S-01
Power Supply
Cordless Battery
Motor Voltage
24V
Battery Voltage
24V
Battery Size
2.0 Ah
Battery Capacity
43.2 Wh
Cutting Width
25 cm
Battery Charging Time
180 mins
Continuous Run Time
25 mins
Weight
2.8 kg
Recommended Cutting Area
300 m²
Line Diameter
1.6 mm
Feed Type
Auto