1 Year Guarantee | Free Next Working Day Delivery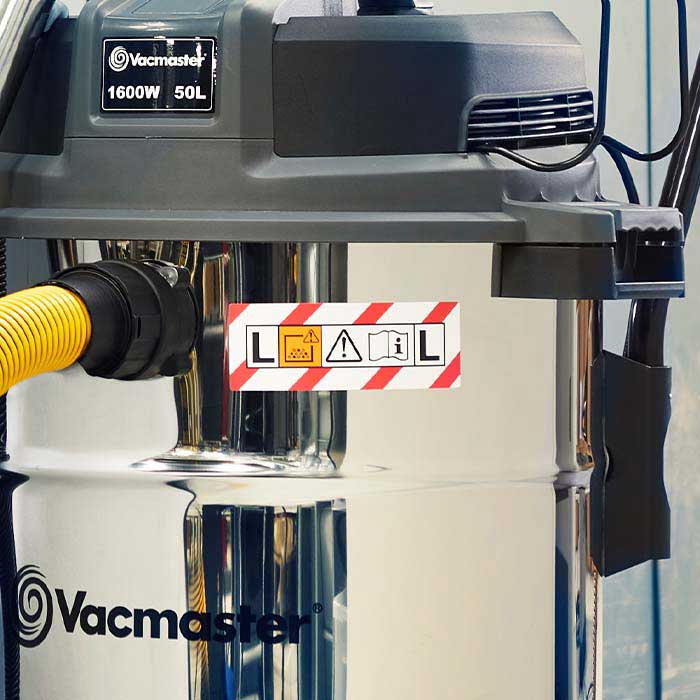 1. L-Class Dust Extraction
Independently tested as Class L for the collection of light hazardous dusts, including soft woods, gypsum, plasterboard and Corian. Effective and reliable extraction that is suitable for lower-toxicity dusts with a workplace exposure limit (WEL) of greater than 1 mg/m3.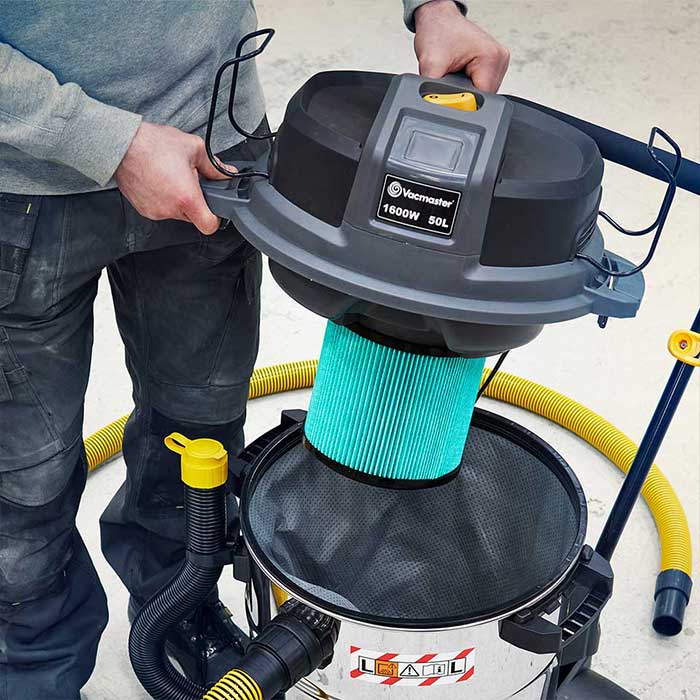 2. Certified HEPA 13 Filtration
HEPA 13 Cartridge filter captures at least 99.95% of dust and allergen particles, down to 0.3 microns. Additional full tank diameter pre-filter prolongs the lifespan of the cartridge filter.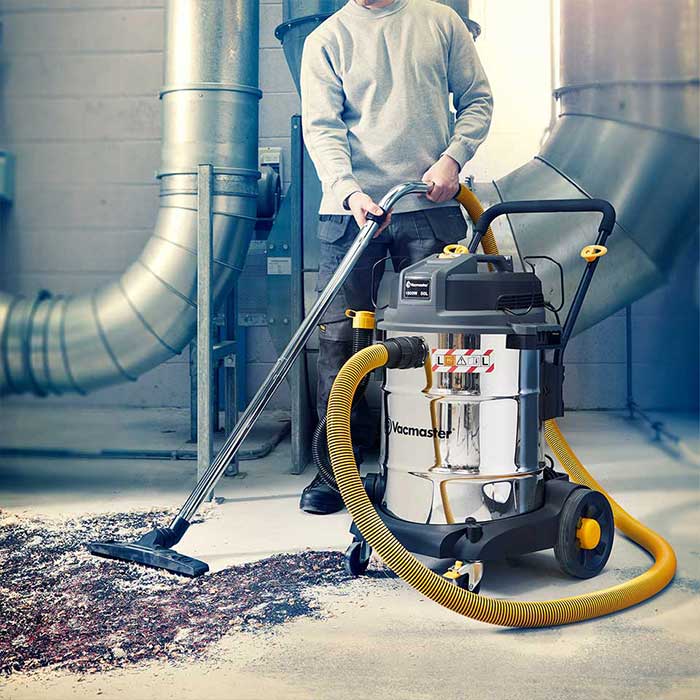 3. 1600-Watt High-Efficiency Motor
Generates more efficient suction power than traditional 3-motor vacuum cleaners and spins 30% faster than a standard vacuum cleaner's motor. Providing 355 Air Watts of suction power, 65 L/second of air flow and 25.5 Kpa vacuum pressure.
4. 50L High Capacity Collection Tank
Extra Large 50L stainless steel collection tank for collecting large volumes of wet or dry debris. Compatible with or without dust bags. The push handle trolley makes manoeuvring a full collection tank easy.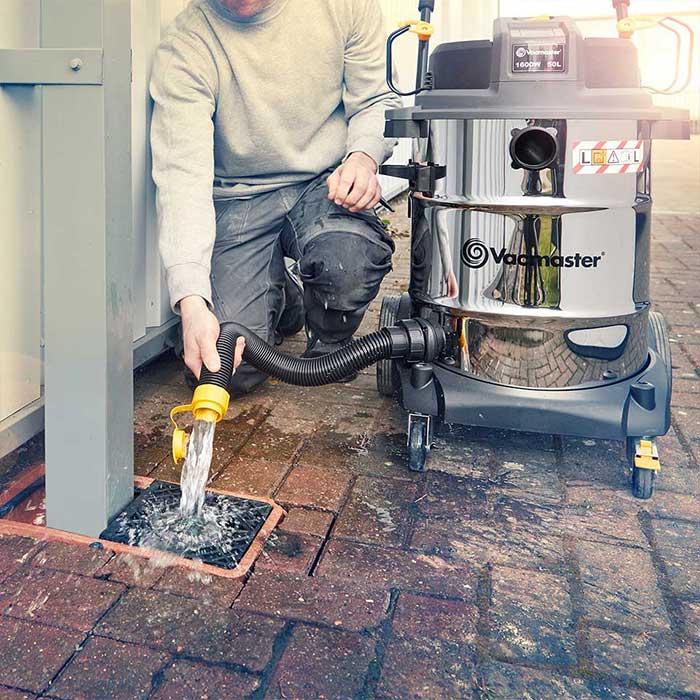 5. Directional Drainage Hose
Drainage hose makes emptying the tank as easy as filling it. Either direct the hose towards a gutter, or insert into a waste collection pipe to safely discard liquid waste without any leakage.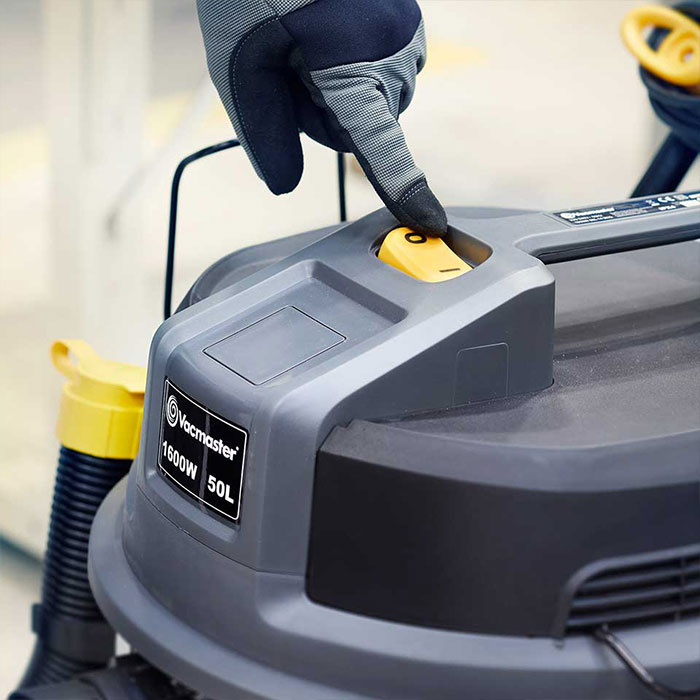 6. Blow Function
Plug the suction hose into the exhaust port and turn your vacuum cleaner into a powerful blower to make light work of tedious sweeping chores.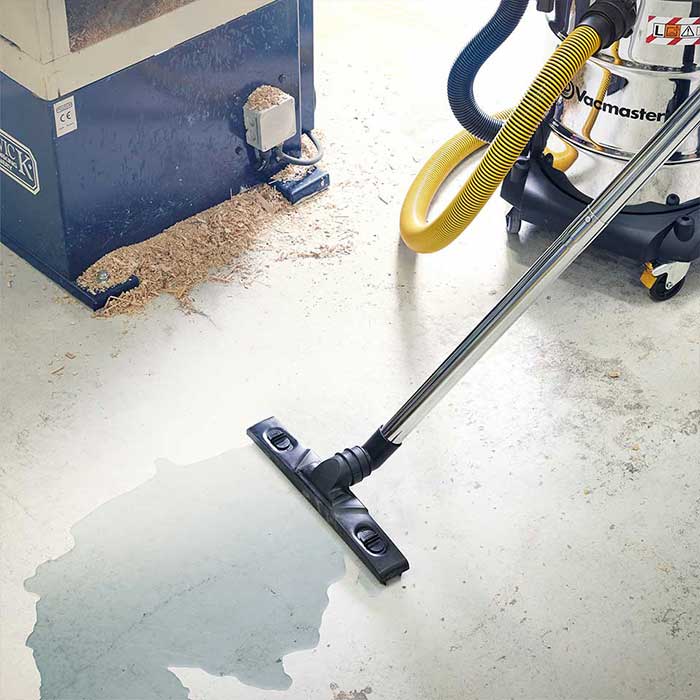 7. Long Reach
With a working reach of approx 13m, you can cover a large area without the need to switch to a different plug socket. An extra long 9m power cable, 3m suction hose and extension tubes provide a versatile combination.
8. Parking Brake
One of the wheels has a parking brake to prevent the unit from moving. Essential for when you're cleaning stairs or on a slope.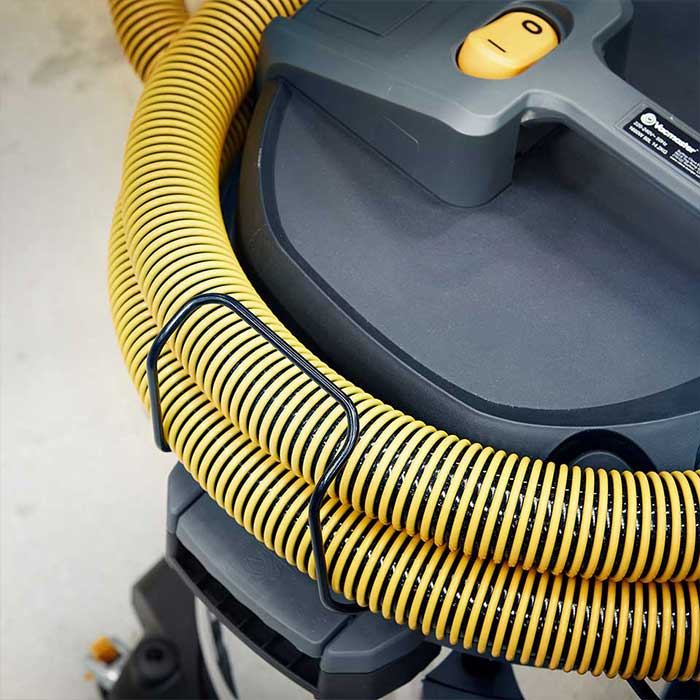 9. Hose Storage
Keep the suction hose neatly wrapped with hose storage clips. Plus all tools and attachments are designed to be stored on the machine or within the included accessory bag.
technical details
Model Number
VJE1650SW-01L
Power Supply
220 - 240V Electric
Motor Power
1600W
Motor Type
High Efficiency Single Fan
Tank Size
50L
Tank Material
Stainless Steel
Power Take Off
No
Noise Level
77 db(A)
Max Airflow
65 L/sec
Max Vacuum Pressure
25.5 kPa
Air Watts
355 AW
Suction Tubes
Stainless Steel
Handle with Airflow Control
Yes
Blower Function
Yes
Hose Length
3.05m
Hose Type
Reinforced, crush resistant
Hose Connection
Screw
Connection Diameter
38mm
Cord Length
9m
Working Reach
Approx 13m
Dimensions (Complete Unit)
H 75cm x W 50cm x D 52cm
Weight
12.4kg
Shop Tools & Accessories
for this product
---